Search results for: "United Nations"
PARIS AGREEMENT IS NON NEGOTIABLE
Responsible Author: Rahma Sophia Rachdi | Paris, Washington DC, NY, 09/20/2017, 02:58 Time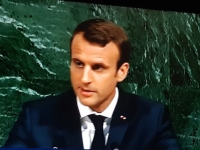 USPA NEWS -
Emmanuel Macron, President of the French Republic, addressed, today, his first speech from the 72nd United Nations General Assembly with a forty five minutes speech in New York a few hours after the address of his American counterpart Donald Trump. President Macron began his generality speech to personalize it more and more in the course of his speech, which was warmly applauded by the international audience. He introduces his speech by the situation in Syria, and then declines on fighting against terrorism, protecting and preventing the political, ethnical and climatic migrations…He made a focus on the climate change and defended the historic Paris Agreement, that he qualified " non negotiable, because it is a bond, and tie " with the other nations, and beyond the states the generations. President Macron assumed totally his French position that is opposite to Donald Trump's philosophy about Climate change effects...in this terrible actual context of catastrophes due to the most powerful hurricanes, Irma in the Carribean area.
PART II OF THE FULL TEXT SPEECH
Responsible Author: Rahma Sophia Rachdi | Paris, Washignton DC, NY, 09/20/2017, 02:43 Time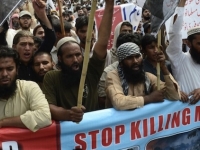 USPA NEWS -
Emmanuel Macron, President of the French Republic, addressed, today, his first speech from the 72nd United Nations General Assembly with a forty five minutes speech in NY a few hours after the address of his American counterpart Donald Trump. President Macron began his generality speech to personalize it more and more in the course of his speech, which was warmly applauded by the international audience. He introduces his speech by the situation in Syria, and then declines on fighting against terrorism, protecting and preventing the political, ethnical and climatic migrations
Macron's dialectic is based on an implacable and literary logic, imbued with great humanity. This is part of a great tradition of the former French leaders, who followed the declaration of human rights, of the time when it represented a strong and emblematic affirmation of France, the homeland of Liberty, Fraternity Equality. He took a strong position in favour of the 400 000 Rohyngas, needing to be protected,a s well as the climatic migrants. "It is a moral and political role to protect them" President Macron said, by reminding the collective responsibility of humanity and solidarity. Here is Part II of speech
| | |
| --- | --- |
| | RAHMA-SOPHIA RACHDI |
| | Ruby BIRD |
| | Yasmina BEDDOU |
| | Daren Frankish |
| | Robbie Merritt |
This will be shown to users with no Flash or Javascript.