Coinciding with Arabic Language Day

National Union of Journalists
Responsible Author: Zayad Alshaikhli | UK London, 12/13/2018, 22:29 Time
USPA NEWS -
Journalists working for Newsquest-owned titles in Carlisle, Whitehaven and Workington have agreed to take strike action on Thursday 20 December over poor pay.
Newsquest has made more than a 100 people redundant since it took over the CN Group in March and now staff are being made redundant three days before Christmas. This has led to huge workloads for the staff remaining.
700 COLLEGIANS WERE ARRESTED
Responsible Author: Rahma Sophia Rachdi, Jedi Foster | Paris, Washington DC, 12/06/2018, 01:05 Time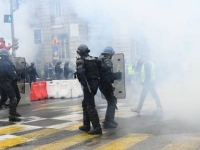 USPA NEWS -
The Ministry of Education counted in the morning of Monday a hundred high schools troubled across France, with complete or partial blockages. In fact, nearly 200 high schools in France, 94 of them are from Ile de France, (Suburbs of Paris). Among the most affected academies are Toulouse (about forty troubled institutions), Versailles and Créteil (twenty in each of these academies). At the end of the day, Interior Minister Christophe Castaner said 188 high schools had been affected.More than 700 high school students were arrested throughout France on Thursday. Several videos with overwhelming images, show young people from Mantes-la-Jolie, in the Yvelines, arrested by police officers, on an image that shocked the opinion and whose video is the buzz on the Internet, indeed high school students are put on his knees his hands on his head, and against the wall, inflicted by the police. There were 153 arrests at Mantes la Jolie.
| | |
| --- | --- |
| | RAHMA-SOPHIA RACHDI |
| | Robbie Merritt |
| | Ruby BIRD |
| | Yasmina BEDDOU |
| | Daren Frankish |