Search results for: "History"
Directors speech
Responsible Author: Daren Frankish - Cyber UK | Manchester, 04/13/2018, 14:20 Time
USPA NEWS -
At CYBERUK 2018, the Government's flagship event for cyber security in the UK, Director of GCHQ, Jeremy Fleming, gave his first public speech since taking office last year. The speech covered: How our adversaries are proactively using technology to further their cause; How what we face constantly changes and becomes more complex; and How GCHQ is changing operationally, technologically, and culturally, to keep our country safe. To illustrate that, the Director explained some of the operational steps that GCHQ has taken in recent years, the impact working in partnership has, and the steps we are taking to recruit the type of people that we need to succeed now and in the future.
5th Avenue Retail Giant Bergdorf Goodman
Responsible Author: Ruby BIRD & Yasmina BEDDOU (Journalists/Directors) | PARIS - NEW YORK, 04/10/2018, 11:07 Time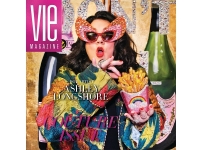 USPA NEWS -
In January, Pop Art Sensation Ashley Longshore made History as the First Female Solo Artist to have work displayed at Fifth Avenue Retail Giant Bergdorf Goodman. The New Orleans–Based Artist showed Hundreds of Paintings, Sculptures and other Works on Bergdorf's Seventh Floor from January 11 until February 25....
| | |
| --- | --- |
| | Robbie Merritt |
| | DENNIS WARD |
| | Jose A Martin |
| | Ricardo Dominguez |
| | Zayad Alshaikhli |
This will be shown to users with no Flash or Javascript.