Politics
Polish Presidential Election finished.
Polish Presidential Election Review

| | |
| --- | --- |
| Belvedere Palace in Warsaw | Source: Przemysław Łanowy |
USPA NEWS - Polish Presidential Election ended on Sunday 24 of May. Actuall President Bronislaw Komorowski (48,45%) was beat by right-wing Europe MEP Andrzej Duda(51,55%). Frequency numer was only 55% allowed to vote which as always shows how Poles are lazy and "democratic".
On Sunday 24 of May at 22:30, People of Poland choosen their new president -Andrzej Duda,who beat in the final stage current Polish President Bronislaw Komorowski from Civil Platform Party. Duda supported by Law and Justice party and other right-wing group's took 51,55 % of voter's, actuall president result was 48,45 % votes. Like always tthe frequency in election was just a half of Poles allowed to vote - 55%.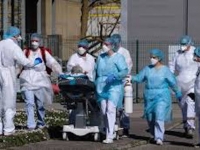 The main problem of thi election(like always) was the frequency of Polish People. Only 55,15 % of people allowed to vote go to elecion locals.. The question is: Are People of Poland so lazy that they can/t get up,walk few meters to local and choose his candidate? Or they have future of their country in somewhere?
We will se how will look 5 years of new president cadency. Maybe he will put the problems out of the country.

For USPA was writing Przemyslaw Lanowy, Warsaw, Poland.
Keywords: Election, President, Poland, Dudu, Komorowski, Przemyslaw Łanowy
Liability for this article lies with the author, who also holds the copyright. Editorial content from USPA may be quoted on other websites as long as the quote comprises no more than 5% of the entire text, is marked as such and the source is named (via hyperlink).
| | |
| --- | --- |
| | Daren Frankish |
| | RAHMA-SOPHIA RACHDI |
| | Ruby BIRD |
| | Yasmina BEDDOU |
| | Aurangzeb Akbar |