Politics
Five years ago, there was an accident that forever changed Polish society
10.04.2010 Smoleńsk Plane Crash

| | |
| --- | --- |
| 10.04.2010 President Palace Outside | Source: Sean Gallup/Getty Images |
USPA NEWS - Exactly five year's ago 10.04.2010 at 8:56 AM in the city of Smolensk (Russia;) , Polish Air Force plane Tu-154M crashed up, killing all 96 people on board . People who died were Polish political and military elite, including Polish President Lech Kaczynski and his wife Maria,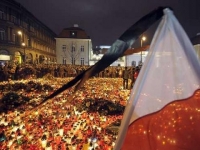 Today Polish people still don't know what was the cause of the Tu-154 crash. About 1/3 of Poles belive in many of Conspiracy theories like "assassination".The most real theory aboute the cause of trash is report from Jerzy Miller Comission - in they opinion the main cause of crash was a pilot mistake to land in fatal weather condition and broken altimeter on board. Looking back,the last five years after this tragedy were filled up of political affrys, blames and conspiracy theories that split Poles in two camps: supporter's of assassination theory and people which thinks it was just accident.
Like I said to the U.S Ambassador in Poland, Mr. Stephen Mull: "Maybe one day our polilitics would stop political "fight" on their graves".
more information: http://http://en.wikipedia.org/wiki/2010_Polish_Air_Force_Tu-154_crash
Liability for this article lies with the author, who also holds the copyright. Editorial content from USPA may be quoted on other websites as long as the quote comprises no more than 5% of the entire text, is marked as such and the source is named (via hyperlink).
| | |
| --- | --- |
| | RAHMA-SOPHIA RACHDI |
| | Robbie Merritt |
| | Ruby BIRD |
| | Yasmina BEDDOU |
| | Daren Frankish |